Dana Point martial arts school, The Dragon Institute, is offering a 8-week Intro to Wing Chun Boot Camp starting on Saturday July 20th. Limited to the first 20 registrants, the boot camp is designed to acclimate beginners to Wing Chun and its scientific-driven approach to martial arts, self-defense, meditation, philosophy and a healthy mind and body. [PR.com] PR.com Press Releases: Sports: Martial Arts News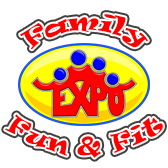 Fresno, California (PRWEB) July 13, 2013
The 2013 Family Fun & Fit Expo will be promoted exclusively with broadcast media partner Clear Channel Communications. Birdys and Clear Channel have agreed to a three (3) year exclusive partnership that includes media schedules and on-air promotions across the Clear Channel family of local stations. This includes KBOS B95 , KHGE The Wolf 102.7, KFSO La Preciosa 92.5, KSOF Soft Rock 98.9 and KFBT The Beat 103.7.
Clear Channel joins Expo host Birdys Families in Motion as a Presenting Sponsor of the Family Fun & Fit Expo. We are also excited to share that B95 is the sponsor of the "Fun Never Ends" Main Stage, where guest appearances, dance/karate/performing arts demonstrations and the National Dance Day Mascot Dance Off will be held. Plus, All for Funs state of the art mechanical bull will be presented by The Wolf 102.7, Fresnos New Country station.
We offer a special thanks to The Big Fresno Fair, the presenting sponsor of the outdoor "Family Fun Cooling Zone" in the Plaza causeway on the north side of the hall. This custom built misting structure will be a popular place for attendees to take a break and cool off.
All For Fun Californias Premier Party Rental is our sponsor for the "Family Fun Activity Zone," a special gated area of the Expo that requires an activity wrist band to enter. It will feature a giant inflatable obstacle course, human bowling, a state of the art mechanical bull and more!
The Family Fun & Fit Expo is Fresnos own "Family Playdate," a new and exciting event to families in the Central Valley. The event is being held in the Valdez Hall of the Fresno Convention Center on Saturday July 27th, 2013 from 10:00 am to 4:00 pm. The event is $ 5 general admission for adults and free for children under 12 yrs. old and seniors age 55+. This exciting event is designed to introduce Valley families to over 75 local companies and national brands that provide goods and services that make a childs life better and brings families together.
About Birdys Families in Motion
Birdys Kids in Motion was established in 2009, by Erin Burd, as a mobile dance and gymnastics company serving preschools, daycares, and private schools across the Central Valley. In 2013, Birdys launched Birdys Mommies in Motion and is the host of the Family Fun & Fit Expo. With that, they have adopted the new company name of Birdys Families in Motion. This is a family owned business located in Fresno, California whose mission is to enrich our community by empowering families to participate in healthy activities together. Birdys Families in Motion takes pride in hosting the "Family Playdate" and offering innovative and creative classes to families located in the Central California region.
-END-