SAFE International ™ is the leading provider of mobile women's self defense training in North America. SAFE International has taught more than 175,000 women since 1994.
Latest Sports/Martial Arts News and Press Release – Free Sports/Martial Arts RSS @ 1888 Press Release.com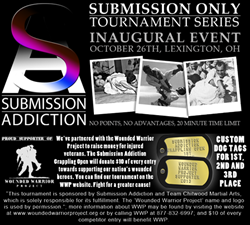 Columbus, OH (PRWEB) September 26, 2013
Team Chitwood Martial Arts & Fitness announced today they will donate $ 10 per competitor entry fee to the Wounded Warrior Project (WWP). The Submission Addiction Grappling Open on October 26, 2013 is the only tournament of its kind, bringing together more than three-hundred Brazilian Jiu-jitsu competitors, including children, teens, and adults from Ohio, the mid-west, and the east coast.
We have a lot of former military who train and compete with us, so this is a cause that we all believe in, explains Shawn Chitwood, CEO of Team Chitwood Martial Arts & Fitness. We want to give something back to these heroes and encourage others to also support this great organization.
In fact, Shawns brother, Neil Chitwood, Director of Operations is currently serving as Major in the Army, and is Regional Officer in Charge of 6 states of ROTC programs. Too many of our brothers and sisters return with life-changing injuries and they need our support to regain a normal life, says Neil. The ones with scars we cant see those suffering from post-traumatic stress disorder and depression also need to know there is help, and the Wounded Warrior Project does a great job of addressing their specific needs.
About the Submission Addiction Grappling Open
The Submission Addiction Grappling Open is in its inaugural year as the newly expanded version of Team Chitwoods popular tournament series. This years Submission Addiction Grappling Open has a new format as a submission-only tournament for teens and adults, and is the first event to pair Ohio youth wrestling programs with Brazilian Jiu-jitsu in a dual tournament format. Register, sponsor, or attend: http://www.submissionaddiction.com.
About Team Chitwood Martial Arts & Fitness
Team Chitwood Martial Arts & Fitness serves central Ohio as the premier Brazilian Jiu-jitsu academy with two locations around Mansfield/Lexington and North Columbus/Lewis Center. At the helm of Team Chitwood are three champion competitors, Shawn, Neil and Craig Chitwood. The three brothers teach kids martial arts classes and teens a unique blend of Gracie Jiu-jitsu technique combined with Stranger Danger awareness and Bully Guard Kids de-escalation and preparedness. Adult programs include Brazilian Jiu-jitsu, Combat Jujitsu, Self Defense, and Kickboxing. Learn more: http://www.teamchitwood.com.
About Wounded Warrior Project TM
The mission of Wounded Warrior Project (WWP) is to honor and empower wounded warriors. WWPs purpose is to raise awareness and to enlist the publics aid for the needs of injured service members, to help injured servicemen and women aid and assist each other, and to provide unique, direct programs and services to meet their needs. WWP is a national, nonpartisan organization headquartered in Jacksonville, Florida. To get involved and learn more, visit http://www.woundedwarriorproject.org.
Team Chitwood Contact: Maj. Neil Chitwood, 419-884-3888