SAFE International™ is the leading provider of mobile women's self defense training in North America. SAFE International has taught more than 175,000 women since 1994. Global TV recently featured the SAFE International Montreal Self Defense Party to its' viewers.
Latest Sports/Martial Arts News and Press Release – Free Sports/Martial Arts RSS @ 1888 Press Release.com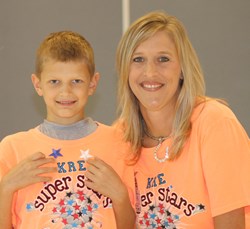 Garden Grove, CA (PRWEB) September 10, 2013
From rewards at home or school to ranking students in a do-jo, to sports team players rewards for home runs/MVP at each game, to making costumes or cheer leading uniforms, iron on star patches are simple, affordable and do the trick!
It has been proven that when positively rewarded even for the slightest accomplishment with an object they can view repeatedly, children and young adults self-esteem is boosted, leading to yet even more positive future behavior. When searching for the perfect little reward for a child, student, or athlete, most look for an inexpensive yet lasting way to show recognition for the accomplishment. For a child struggling in behavior at home, or following through with chores, a little star patch to iron on their blanket, jacket or a special sash given to them can be a big reward! Whether it was given as a reward for doing their chores, getting good grades, being a good example or for school room accomplishments in reading a certain level or amount of books, there are so many creative uses for these inexpensive rewards!
Available in many colors and sizes, the star patches can be used to signify different accomplishments or levels within the reward system. For example, Laughing Lizards stated that many after-school programs purchase a series of star patches in different colors in the same size and each color has a different symbolism. The 1 inch red star patch is handed out for "Good Grades", the 1 inch yellow star patch is handed out for "Good Citizenship", the 1 inch green star patch is handed out for "Being Helpful to Other Students", Royal Blue Star Patch is for "Volunteering" and only those who earn all four star patches by the end of the year receive a 1 inch glimmering gold star patch for all around Excellence! The students make a competition out of earning the most stars and in the end have improved their overall behavior! Klein Road Elementary in New Braunfels, Texas PTA purchase both the shirts and the stars for the students. They call them the KRE (Klein Road Elementary) Honor's Shirts and Honor's Stars. Each student has an opportunity to earn an honors shirt and iron-on stars for grades, attendance and citizenship. Principal Kara Bock and her son Braden, a student, display how their school utilizes the iron on stars on their shirts in the attached picture.
Many Sports teams utilize the star patches for immediate rewards at games like touchdowns, baskets or home runs as well as giving the MVP after each game a special colored star patch only given to MVP's. Many glue them on their helmets using craft glue or sew them on that years or seasons jersey where others prefer to iron the stars on a baseball cap. Countless Do-Jo's use the stars to show rank in their Karate, Ju-Jit-Su or MMA studios. Since the 1 inch stars come in Red, Orange, Yellow, Green, Royal Blue, Navy Blue, Purple, Black, White as well as Metallic Silver and Gold, http://www.LaughingLizards.com have the bases covered!
The star patches are also great for Cheer leading uniforms and dance costumes as they are so versatile!
If the colored stars are too generic for the intended use, LaughingLizards.com also carry a line of sports ball patches such as a football patches, baseball patches, basketball patches, volleyball patches, and water polo ball patches. For Do-Jo's they carry a tiny black belt iron on patch. If these are too specific for the need, the line of patriotic patches are a great way to reward & inspire as well as show patriotism!
The star patches are available starting in 1/2 inch size all the way up to 3 inches and every half inch increment between. (1/2 inch, 1 inch, 1-1/2 inch, 2 inch, 2-1/2 inch, 3 inch.) Not every color is available in every size, but it is hard to find better prices anywhere around than on this site. They also offer volume discounts, which definitely help out for larger purchases if buying for a league or chain and can order a custom color in any size with a minimum order quantity of 50-100.
Laughing Lizards Iron on Patches and Appliques has been a retail and wholesale provider to the applique and crafting industry since 1989. The applique specialist is a family owned and operated company located in Southern California. Supporting Laughing Lizards means supporting the American Dream!