Quebec City Self Defense, Global TV Features SAFE International Quebec City Women's Self Defense Parties.
Latest Sports/Martial Arts News and Press Release – Free Sports/Martial Arts RSS @ 1888 Press Release.com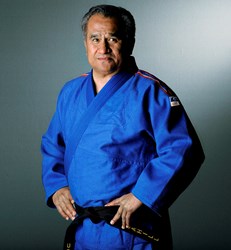 San Francisco, CA (PRWEB) October 01, 2013
Willy Cahill of Cahills Judo Academy and Co-Founder of the Blind Judo Foundation sits down with Garvin Thomas of NBCs Bay Area Proud Producer sharing some of his secrets and passion for his athletes.
As a young boy, Cahill had a dream of becoming a football coach but it was not to be. His father was an experienced Judo and Jujitsu athlete and after moving to California from Hawaii, Professor John Cahill established Cahills Judo Academy in 1948.
In 1964 Judo became an accepted sport for the first time in Olympic history. Willys dad also had a vision and a dream of sending one of his Judo athletes to the Olympics. But it was not too be. John Cahill passed away at the early age of 50 in 1962 and never realized his dream.
Willys mother asked her son to take over Cahills Judo Academy. Willy says "when a Hawaiian mother says to do something, you listen and follow orders." As it turns out not only did her son keep his dads dream alive but exceed all levels of expectation.
In 1963 Willy built a new club in San Bruno, CA and retained the name of Cahills Judo Academy to honor his father. Here is where Willy set new standards and goals for himself and his students. Over the past 50 years at this location working with children, young adults and individuals of all ages, Willy has produced over 1500 national and international champions.
In 1988 Willy accepted the position of US Olympic Judo Coach. In 1999 the USOC asked Cahill to become the US Paralympic (not to be confused with Special Olympics) Judo Coach in preparation for the 2000 Games in Sydney, Australia. Here is where the USA won its first Gold Medal, two to be exact, one Silver and one Bronze medal. It took 48 years since Judo was introduced at the Olympics for the US Olympic Judo Team to win Gold in 2012.
Currently Cahill holds a 10th Degree Black Belt in Jujitsu and an 8th Degree in Judo. He was the Judo coach at Stanford University, SF State University and Foothills College are among his many contributions to his love of Judo. More about Coach Willy Cahills credentials can be seen on the Blind Judo Foundation website.
With the many successes and contributions to athletes and Judo itself, Coach Cahill could have walked off the Judo stage very proud of what he has accomplished. But Coach Cahill was not going to "tap-out." Instead, he and Ron C. Peck Co-Founded the Blind Judo Foundation in 2003 whose mission is to empower blind and visually impaired athletes to achieve maximum independence using the principles ingrained in Judo as a tool for freedom in life.
In July 2013 Coach Cahill received the coveted Lifetime Achievement Award from USA Judo, the official organization that brings Judo to the Olympic and the Paralympic. Also US Congresswoman Jackie Speier had Coach Cahill recorded permanently into the US Congressional Records for his life time achievements. It didnt end there as the Governor and Lt. Governor of Hawaii declared July 19 Coach Willy Cahill Day for one of their native sons.
The embedded video in this Press Release is courtesy of NBC Bay Area and Garvin Thomas, Reporter and Producer of Bay Area Proud.
The Blind Judo Foundation is a nonprofit 501(c)(3) created in 2003 for the express purpose of empowering the lives of blind and visually impaired children, young adults and our blind and visually impaired military men and women using Judo as the tool for success in all areas of ones life. The Foundation relies on donations to support the athletes so they can attend and participate in tournaments nationally and internationally. Donations are tax exempt and can be made online at http://www.blindjudofoundation.org/donate.php For more information call Ron C. Peck at 425-444-8256 or email at roncpeck(at)blindjudofoundation(dot)org