Here's a fast, free martial arts lesson from Roanoke lawyer David Damico , who for the past decade has moonlighted as a judo instructor: "There's no such thing as a judo chop," Damico explained from his Campbell Avenue office, dispelling the common misconception that striking is allowed in contemporary judo.
Karate News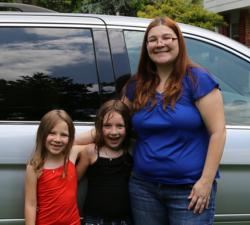 Trevose, PA (PRWEB) July 03, 2013
Christine Ware, a 29-year-old Pitman, NJ, single mother, Air Force veteran and wife of an Air Force airman killed in Iraq, has been chosen as the second winner of CollisionMaxs Metal of Honor Project award. As a result of her selection, CollisionMax of Glassboro will repair her 2009 Honda Odyssey at the auto body shop companys expense.
Ms. Ware was serving as a command post controller at Hickam AFB in Hawaii when her husband, Airman First Class Carl Ware, was shot and killed in his barracks room by a fellow soldier on July 1, 2006 at Camp Bucca, Iraq. Senior Airman Kyle Dalton pleaded guilty to manslaughter for the shooting and was sentenced to 10 years in prison, as reported on April 24, 2007 by the Air Force Times (http://www.airforcetimes.com/article/20070424/NEWS/704240304/Airman-gets-10-years-killing-fellow-airman).
Ms. Ware was pregnant at the time with the couples second child, but was discharged within hours after news of her husbands death and moved to Glassboro to live with her in-laws. She has since purchased her own house in the neighboring town of Pitman, where she is raising her two daughters, Caitlyn, 7, and Carly, 6.
Ms. Ware works as an administrative assistant for a truck body manufacturer in Glassboro, while she studies part-time for her bachelors degree in education online at the University of Phoenix. After her discharge, she earned an associates degree at Gloucester County College in Sewell, NJ.
Chrissy is one of the most selfless, caring, best mothers that I know, wrote her friend, Michelle Winter, in nominating her for the award. Her oldest daughter suffers from a number of medical conditions as a result of the shock from her fathers death, Winter wrote, and Chrissy spends a lot time driving Caitlyn back and forth to [doctors] appointments [and] therapy sessions.
Between these appointments, the dance classes, karate classes and cheerleading practices that the girls are involved inChrissys car has suffered a great deal of dings, dents, and cracks a piece of the bumper is missing and a mirror is broken, Winter added. Whether its hitting the beach for the day, going to the aquarium, or just riding around to get their mind off things, their van is everything to them.
Ms. Ware is the second of 11 U.S. military service veterans in New Jersey and Pennsylvania who will receive a free auto body repair from CollisionMax through its Metal of Honor Project, one per month for each of its repair centers in Pennsylvania and New Jersey. The company chooses the winner from nominations it receives from the public on the projects web site, http://www.metalofhonorproject.com.
The site is now accepting nominations for its Cinnaminson, NJ shop. Ms. Wares award was announced by Pierre Robert on radio station 93.3 WMMR, which is supporting the Metal of Honor Project.
The Metal of Honor Project is our way of saying thank you and honoring the men and women of our armed forces who put their lives on the line for all of us, said Jim Tornetta, CollisionMax and president and CEO.
In New Jersey, CollisionMax operates shops in Blackwood, Cinnaminson, Glassboro, Marlton, Pennsauken, Sicklerville and Westmont. In Pennsylvania, it has repair centers in Oxford Valley, Warminster and two in Northeast Philadelphia (both on West Grant Avenue). For information about CollisionMax, please visit http://www.collisionmax.com.