SAFE International is launching its newly updated website for Nepean Women's Self Defense as well as their other course offerings.
Latest Sports/Martial Arts News and Press Release – Free Sports/Martial Arts RSS @ 1888 Press Release.com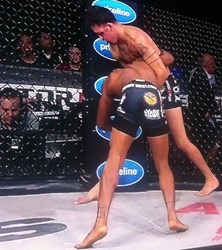 Albuquerque, New Mexico (PRWEB) August 01, 2013
Last night Wednesday July 31, at the Santa Ana Star Center in Albuquerque New Mexico, professional Lynx Shreds MMA fighter Bubba "The Highlight Kid" Jenkins made his appearance for the first time in the Bellator ring. Not only was it his first time in the Bellator ring but it was his first time in any ring in the past year.
Jenkins continues to remain undefeated after increasing his record to 4-0 after defeating Mike Barrares from New Mexico by TKO in the second round. It was Jenkins first fight to ever go into the second round. "It feels good to be 4-0 right now," Jenkins said during an interview after his fight. Bubba, 25, is currently the world's #1 ranked MMA prospect and after last night's fight he proved that he belongs in the Bellator league. He also proved why he is ranked as the world's #1 prospect.
Jenkins wrestled at Penn State University for four years where he became an NCAA National runner up and 2X All American before transferring his senior year to Arizona State University where he won the National Championship at 157 pounds. In the 2011 NCAA tournament he wrestled the current Bellator Lightweight Champion Michael Chandler who is also a former Mizzou University wrestler. Bubba dominated him with a major decision score 15-3. After wrestling and dominating Bellator's current champion, Jenkins has very high expectations for his future in Bellator's league. Jenkins said, "I really do live up bright lights type situation. Once the lights are bright I really do perform and thats the way I like it.
Since becoming the National wrestling Champion, Jenkins moved to Coconut Creek, Florida where he joined the prestigious American Top Team. He has been working on perfecting his fighting by training with some of the best fighters in the world mostly on jujitsu, and boxing so he will become a confident fighter in all situations. He also worked with and helped coach with the Current UFC Champion Jon Jones on the Ultimate Fighter Reality show that aired this past spring.
Lynx Shreds Apparel is a proud sponsor of Bubba Jenkins who wears the brand in every fight and where ever else he goes. Lynx Shreds represents more than just a clothing line but a brand that embodies the Extreme Athlete Lifestyle. Jenkins is part of the Lynx culture because he lives and breathes the brands vision on a daily basis. Lynx Shreds vision is about giving whatever it takes and everything you've got to accomplish your dreams. Pushing yourself and your friends to make each other the best you can possibly be.
Order now for a limited time only the Official Lynx Shreds Bubba Jenkins MMA shirt from http://www.lynxshreds.com. For more information on Lynx Shreds and special clothing offers please follow us on Twitter & Instagram- @lynxshreds & Like Lynx Shreds on Facebook!