Shark Sports Management (SSM) is pleased to announce that Tim "The Terror" Goodwin has signed a multi-fight deal with Quest For Glory Championship (QFGC). Michael Amos, President of QFGC, contacted SSM because the promotion wanted Goodwin to be part of a tournament that they were organizing to crown the inaugural QFGC Bantamweight Champion. At the time, Goodwin was fresh off of a dominant five round performance [PR.com] PR.com Press Releases: Sports: Martial Arts News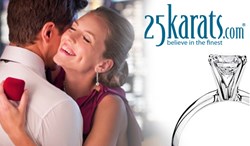 New York, NY (PRWEB) November 21, 2013
For men, one of the biggest stresses of planning a sweeping and romantic proposal is finding the perfect diamond engagement ring. But planning a proposal on the sly often means that a groom-to-be may not always find the engagement ring of his future brides dreams. Thats why 25karats.com is excited to announce the arrival of the ultimate guarantee: the 365-day engagement ring upgrade.
Stressed-out men rejoice: 25karats.coms 365-day engagement ring upgrade guarantee makes it possible to trade out the first ring for the brides dream ring, without paying for a new diamond. This guarantee the first of its kind makes it possible for future grooms to shop for a ring without worrying about getting it absolutely perfect on the first try.
We know that shopping for an engagement ring is stressful for men. Our 365-day upgrade guarantee strikes the perfect compromise between newly engaged couples, says Matt Aksu, CEO of 25karats.com. Brides can ensure they get the diamond ring theyve been fantasizing about, and grooms dont have to go through the expense of buying a totally new ring."
Were the first diamond jewelry retailer to offer this no-stress guarantee, Aksu adds.
Customers can pick the center diamond for the engagement ring from 25karats.coms extensive collection of GIA and EGL certified diamonds. After this step, clients can choose from a number of selective designer solitaire rings with gorgeous settings. After placing this order, 25karats.com will create the customers ring within five business days and ship it to the client.
If the client proposes and the bride doesnt like the ring, simply return the ring to 25karats.com and upgrade to her ring of choice. With over 1,000 engagement ring styles, its guaranteed that the future bride will find her dream ring. All engagement rings are available in 14K and 18K, white and yellow gold, as well as platinum and palladium. In addition to these engagement rings, 25karats.com also has an extensive collection of bridal jewelry, including wedding bands, anniversary rings, mens rings, and stud earrings.
All promotional rings come with a certificate showing the expiration date and total price paid for the original ring. Because the 365-day guarantee uses the center diamond that has already been purchased, customers only have to pay the difference for the upgrade ring. Theres no restocking fee either, which makes this upgrade guarantee a hassle-free and affordable approach to finding the perfect engagement ring.
Twenty selective solitaire styles are available with 25karats.coms 365-day upgrade program. Center diamond can be returned only within 30 days for a full refund; return policy terms apply. The solitaire ring can be returned in 365 days from the shipping date for an engagement ring upgrade only.
Shes going to wear that diamond engagement ring for the rest of her life, says Aksu. Our 365-day upgrade guarantee ensures its the one, shell be excited to look at.