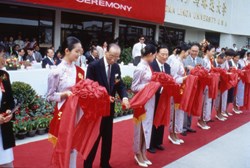 Loma Linda, CA (PRWEB) January 10, 2014
Most of the world may remember Sir Run Run Shaw as a media mogul or the man who brought Kung Fu to the big screen. Loma Linda University Health (LLUH), however, remembers him in his passing as a philanthropist and humanitarian in the world of health care. It is because of his benevolence that Sir Run Run Shaw hospital was opened in 1994 in in the Zhejiang Province in the People's Republic of China, which transformed the delivery of health care in what was then a very poor community.
"From a childhood memory and appreciation for quality medical care nearly 100 years ago, to a modern hospital today, the connection between Loma Linda and Sir Run Run Shaw is legendary, said Richard H. Hart, MD, president of LLUH. Loma Linda University Health is pleased to have partnered with the Shaw Foundation to develop a superb western style hospital in Sir Run Run Shaw's home town. With China's current rapid development, we expect this model to continue to impact the entire country for years to come."
Sir Run Run Shaw, a Hong Kong film magnate who dreamed of building a Western-style hospital in his native country of China, provided partial funding to the Zhejiang Provincial Government for the construction of a hospital in its capital of Hangzhou in the early 1990s. His only request was that he wanted to partner with the Seventh-day Adventist Church in operating the hospital.
Years earlier, Sir Run Run Shaws mother had received treatment from Dr. Harry Miller, an Adventist physician, at a progressive hospital in China. He was impressed by the compassionate, whole-person care provided to all echelons of society, from government officials to day laborers. As a result, he vowed to one day bring a similar level of care to his own community.
"He never forgot the excellent care his mother had received from Dr. Miller, says Joan Coggin, MD, MPH, former vice president for global outreach, Loma Linda University Adventist Health Sciences Center.
When Sir Run Run Shaw initiated plans to build a hospital, he asked the Seventh-day Adventist Church and Loma Linda University and Medical Center to become involved in the process.
Sir Run Run Shaw Hospital officially opened on May 9, 1994 as a 400-bed facility providing Western-style services in all of the medical specialties practiced in the United States. The hospital received Joint Commission International Accreditation in December 2006, making it the first in China to achieve this level of recognition and success; it was subsequently reaccredited in 2009 and 2013. Today the 1,200-bed tertiary care hospital treats more than 6,000 patients per day.
Jan Zumwalt, MBA, MS, associate director, Global Health Institute and executive director for international affairs, LLUMC, was on-site at Sir Run Run Shaw Hospital when its namesake visited. She recalls, "He didn't desire fanfare or attention. He had been born in the province where the hospital is located; the area was very poor at the time the hospital was built.
"He visited several departments and when asked if he wanted to visit an outpatient clinic he said, Yes, I want to see more.'" Zumwalt remembers his deep interest in the facility that would not have existed had it not been for his vision, and for his financial support.
"It was so important to him that the people of Hangzhou benefit from the best in health care including education, modern equipment and facilities. He was impressed," she says, "at what he experienced during his visit." At a celebration marking the Sir Run Run Shaw Hospital's 10th anniversary, Zumwalt recalls a colleague who highlighted the facility's importance to Sir Run Run Shaw, stating that of the many philanthropic projects he has supported, this hospital brought him the most satisfaction.
He made his fortune by selling martial arts movies through Shaw Brothers film studio. In later life, he earned widespread respect as a philanthropist. In 2002 he created the Shaw Prize, which is recognized as the Nobel Prize of Asia. In 1977, Queen Elizabeth II knighted him for his longstanding support of the Red Cross.
In addition to the hospital, Sir Run Run Shaw generously provided financial support to numerous other organizations in Asia and the United States.
# # #