Easton Addington won the Brenton Merritt Memorial Lobster Crate run Sunday, July 7 by running 100 crates – four trips over the course.
Karate News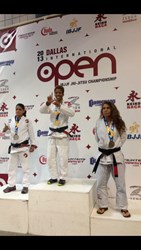 Camp Springs, MD (PRWEB) December 13, 2013
Lloyd Irvin is a world renowned Jiu Jitsu and MMA instructor, with a school in Prince Georges County Maryland, where he his head coach to a stable of World Champions. One of those champions is Nyjah Easton.
Easton, 25, of Washington DC, has been training at Lloyd Irvin Martial Arts Academy for over 10 years. She arrived following in the steps of her big brother, Mike The Hulk Easton, who is now a top-10 bantamweight in the UFC and fellow Lloyd Irvin Black Belt. Nyjah is the first-ever Jiu Jitsu World Champion to come out of the Lloyd Irvin camp, when she won the title as a purple belt in 2008. She is also Lloyd Irvins first and only female Black Belt.
In 2013, Nyjah Easton came up short, placing second at the IBJJF World Championships. It was her third silver medal in as many years. Easton, however, feels this year will be different.
Last year, I feel like I didnt pull the trigger, so to speak, in my finals match. I wasnt as aggressive with my sweeps as I shouldve been and I just didnt do enough to win the match, says Easton.
Lloyd Irvin, her head coach and mentor, is confident that the young woman can win the Worlds in 2014. She has the skills, shes in amazing shape, and mentally, shes tougher than ever.
Nyjah typically fights in the womens Black Belt Light-Feather or Feather division, where shell have some good, challenging matches this year against ladies like Angelica Viera (Atos Team), Gezary Banderia (American Top Team), and Sophia Amarante (The Avengers). Nyjah defeated Amarante en route to the finals in 2013, where she lost via points to Banderia.
Im really looking forward to this season. Ever since the 2013 Worlds, Ive been training hard and drilling a lot. My coach, Master Lloyd Irvin, has worked diligently with me to fill some of the holes in my game. Were working the little details I was missing last year. This is my year, the mats hot, the training is going great, and I know me and the rest of Team Lloyd Irvin will have a lot of success this year. – Nyjah Easton
When Nyjah isnt flying all over the world competing in Jiu Jitsu, she is an instructor and Student Services Consultant at Lloyd Irvin Martial Arts Academy. She teaches Jiu Jitsu and Fitness, and helps incoming students schedule classes.
For more information on Lloyd Irvin Martial Arts Academy, please visit http://www.lloydirvinlive.com or call 301-449-KICK, lines are open 24/7.