Share With Friends:
|
|
Sports – Martial Arts Stories
,
News Feeds
and
News
via Feedzilla.
Feedzilla: Martial Arts News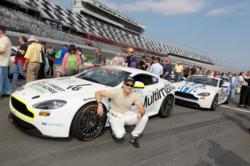 Chicago, IL (PRWEB) January 31, 2013
Talk about a close call; in more ways than one! This past weekend Nick Mancuso and teammate Frankie Montecalvo surprised everybody with a stunning 4th place finish in their debut race at Daytona International Speedway. The Vantage V8 Grand-Am racecar Nick and Frankie drove was still at the Aston Martin factory in England last Monday! Miraculously making the Wednesday morning practice session, the driving duo and their Multimatic Motorsports team worked flat out for the remainder of the weekend culminating in a finish just shy of the podium.
I think I may have gotten my first grey hairs this weekend joked Mancuso. Ive never been more impressed with a race team than I have been with the Multimatic Motorsports boys this weekend! To unload a car from a shipping palette Tuesday night, work flat out throughout the night and morning and just barely roll through Grand Am tech in time to make the first practice session was more than impressive to say the least!
Nicks duties behind the wheel were further complicated by the fact that this was his first race at the famed Daytona International Speedway. Not having raced here before it was more important than ever for me to try and make every practice lap that I could Mancuso added. Nicks teammate Frankie did a great job during the first driving stint of the race and Mancuso put in the drive of his life to charge through the field and hold off some heavy hitters towards the end of the race.
Frankie did an awesome job at the start! Its not easy to bring the car back clean and in a competitive spot with the craziness that is Continental GS racing stated Mancuso. With the running order shuffling due to pit stops, Mancuso exited the pits in 20th position and worked his way up to 4th by the time the checkered flag fell. The Multimatic boys gave me some great pit stops and my engineers Rob Taylor and JF Chretien called the perfect strategy. I had some pretty strong pressure from the Stevenson boys at the end there but, to their credit, the #9 Camaro raced me clean. I wouldnt be a racing driver if I wasnt at least a little disappointed not to be on the podium but, given the fact that the car was in England a few days ago and this is my first GS race, I wont get too greedy!
Nick returns to action next in Austin, TX at the newly constructed Formula 1 track the Circuit of the Americas on March 2nd. Be sure to catch the Daytona race this Saturday on SPEED TV at 4pm ET.
The Continental Tire series is owned by NASCAR and is widely renowned for being one of the most competitive road racing series in the US. With fields oftentimes in excess of 80 cars, races all across the US alongside NASCAR/Grand-Am/ALMS, and television broadcasts on SPEED TV, Conti racing is one of the most exciting forms of motorsport out there!
Follow Nick during his 2013 season at the newly revamped http://www.NickMancusoRacing.com, on Facebook at Nick Mancuso Racing Fan Page, and Twitter @NickMancusoRace. For more information on Aston Martin please visit AstonMartin.com and for more on Multimatic Motorsports, visit MultimaticMotorsports.com.
Nick Mancuso joins Multimatic Motorsports in the Continental Tire Sports Car Championship this coming season having helped the team develop their factory-backed Ford Focus ST-R racecar in 2012. First getting behind the wheel in 2006, he immediately steered his way into victory lane, winning numerous races in SCCA Regional Sports 2000 competition. Mancuso has since driven in numerous professional series in both sports cars and open wheel racecars. In addition to his racing activities, Mancuso is a black belt in Shotokan Karate and an extreme adventurer with hobbies that include spearfishing, Krav Maga, skydiving and capturing/photographing reptiles in the wild. In addition, he was inducted into the Cum Laude Society in 2004 and in 2005 he was made a member of the National Honor Society and chosen as a National Merit Scholar before graduating from the University of California, Santa Barbara in 2009.
Contact: nmancuso@lfsc.com