Karate is the activity the Fallis' do together to stay active. Jones is a seventh-degree black belt in Shotokan karate.
Karate News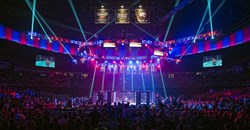 Newport Beach, CA (PRWEB) December 11, 2013
Bellator MMA announced today that it has partnered with licensing agency, All-American Licensing & Management Group (AALMG), to develop a line of uniquely designed lifestyle products including a collection of apparel and accessories; video, interactive and mobile games; sports and fitness equipment; and nutritional products and workout gear.
As the Bellator brand continues to grow exponentially, securing an innovative licensing partnership was vital, Bellator Chairman & CEO Bjorn Rebney said. AALMGs experience, expertise and industry leading knowledge of sports licensing made them the perfect fit.
We couldnt be more thrilled to be working with Bellator, an organization that is committed to the integrity and purity of MMA making it the most dynamic sporting event company in the industry, says Michael Gottsegen, co-founding partner of AALMG. This alliance will bring to a rabid fan base a variety of cool and unique products that theyve never seen before, said Gottsegen.
Bellator just completed its highly anticipated ninth season, which featured the Bellator debut of MMA icon Quinton Rampage Jackson, along with a host of World Title fights including MMA superstars Eddie Alvarez, Michael Chandler, Daniel Straus and Pat Curran. The season averaged over 750,000 viewers per week, making it the highest rated MMA promotion on cable, trumping the UFC. Bellator consistently saw peak ratings at over 1 million viewers during its biggest fights, including a 1.4 peak during the long awaited Michael Chandler vs. Eddie Alvarez rematch.
As their recent ratings have shown, Bellator MMA is truly the fastest growing combat sports promotion in the world. The product concepts that well be introducing will be perfectly targeted to the growing base of Bellator MMA fans, stated AALMG Partner Al Ovadia.
For more information, visit Bellator.com, follow Bellator on Twitter @BellatorMMA, follow Bellator Chairman & CEO Bjorn Rebney @BjornRebney and check out Bellator on Facebook at http://www.facebook.com/BellatorMMA