Share With Friends:
|
|
Sports – Martial Arts News
,
News Feeds
and
News
via Feedzilla.
Feedzilla: Martial Arts News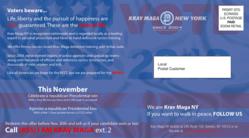 Westchester County, NY (PRWEB) November 08, 2012
The thrill of victory is likely to reassure Westchester County Obama / Biden voters. But for one to win, another must lose, and the agony of defeat among Romney / Ryan supporters can spur uneasiness and doubt. With the election finally decided, voters will settle back into their daily routines, some with increased optimisms, others with concern and skepticism – or so anticipates a local self defense training center.
Well aware of the symbiotic, often tragic bond between victory and defeat, a Westchester County expert in self defense recently announced it intends to offer both Obama and Romney supporters an emotional outlet – and a lesson that binds.
Westchester and Orange County based Krav Maga New York teaches the Israeli system of self defense known as Krav Maga. Renowned worldwide, Krav Maga deals with defensive scenarios, when losing is not an option. Participants, often placed in positions of disadvantage, are taught to avoid when possible, but to fight if necessary – and win.
The physical aspect of training empowers, relieves stress, appeals on a social level, builds camaraderie, and gets people in great shape. The outlet training provides may be reason enough to participate, but Krav Maga New Yorks founder argues that defensive training also offers a valuable lesson.
Violence is a part of our human existence, Davide explains, Survival is primal. Through training, we learn a great deal about ourselves, including our capacity to cope with and respond to challenges – like threat, fear, instinct, courage, failure, and even victory.
What we invoke from within and how we respond to the challenges we face allows us to taste our own primordial soup – and unless dad is superman and mom is wonder-woman, the taste is humbling.
Only after tasting what were made of can we learn to appreciate, tolerate, and accept our fellow man who, like us, also struggles, fights, seeks victory, experiences failure and learns defeat. Defensive training is a baseline for conflict, and conflict is a human experience. We respond in similar ways because we're the same. The experience also teaches us that winning is often pyrrhic and that losing can be more momentary than permanent. Nothing is really a given, or as straight forward as it may seem. The process, through all its discomfort, allows us to relate.
Through its offer, Krav Maga New York aims to unite Westchester by reminding County voters that at the core we share a common bond – were people first.
This November, voters celebrating a democratic presidential victory, or agonizing a republican loss, can come together as Americans – as human beings – and take advantage of Krav Maga New Yorks offer – a complimentary private lesson valued at $ 125.
Like you, I hope for the best, Davide concludes but I train for the worst. I train to accept failure, to recover from it, to win, to accept others and their struggle, and to intervene when necessary – I train to feel human.
About Krav Maga New York

Since 2004, Krav Maga New York has trained dozens of police agencies and special response teams along with hundreds of police officers and defensive tactics instructors, and thousands of civilian adults and kids. The company offers Fitness classes and certified, authentic Black Belt level Krav Maga training – and is Westchester's only certified Verbal Self Defense representative. For more information contact Krav Maga New York online at http://www.kmny.us, by email at Admin(at)kmny(dot)us, or call (855) I-Am-Krav-Maga