Share With Friends:
|
|
Sports – Martial Arts News
,
RSS Feeds
and
Widgets
via Feedzilla.
Feedzilla: Martial Arts News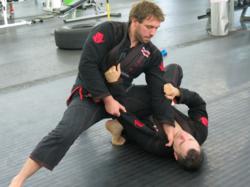 Chicago, IL. (PRWEB) April 22, 2013
Something unique is happening in Chicagos West Loop Neighborhood. Combining multiple programs under one roof, Black Tiger Performance (http://www.blacktigerperformance.com), along with their independent trainers and coaches, are straying away from the status quo of global gyms and niche fitness studios. Helping to create this unique atmosphere are Brett Wolf, Jay Valko, Jerry Owen and Kevin Lowrey
Sensei Brett Wolf has been involved in Judo for over 30 years. A former National Jr. Champion, Brett took over as head instructor of the Menomonee Judo Club in March 1998. During his fifteen years guiding the program, it has grown into one of the largest and most respected Judo programs in the country. Brett competed for the United States internationally on more than ten occasions, and received his black belt in September 1992. Currently a Yodan (4th Degree Black belt), Brett is also is an International Gold Seal level coach for USA Judo. He has been on the Junior Pan American Team coaching staff four out of the last five years, including being the head coach in 2010 (Orlando, Florida) and 2011 (Santiago, Chile). In November 2011, Brett traveled to Cape Town, South Africa, where he was the assistant coach for Team USA at the Junior World Championships. He is certified to work with Paralympic athletes through USA Judo. In May 2012, the Menomonee Judo Club was named Paralympic National Training Site by USA Judo. Bretts most recent international coaching assignment was in October 2012, where he led a team of elite junior players to Belgium for the prestigious Flanders Cup. The team returned to the United States with three medals (including a gold medal) and five players placing in the top 5. Having Brett as a part of our team is a great honor and we are excited to be able to offer his services through our facility, stated Geoff Ruttenberg, a principal of Black Tiger Performance.
According to Jay Valko, A facility with the innovative ideas that Black Tiger Performance is bringing to the table is a great opportunity to expand the discipline of Brazilian Jiu-Jitsu to a new group of clients in a phenomenal setting. Valko started training in the Martial Arts as a child dabbling in traditional programs such as Aikido and Tae Kwon Do on and off for years before finally discovering his passion for the grappling arts and ground fighting. At 19, he joined the Gracie Barra team in Tampa, Florida, training under black belt Eduardo de Lima who would eventually present him with his black belt. At 21 he moved to Chicago and joined the Carlson Gracie Academy, training under the legendary Master Carlson Gracie and Carlson Gracie Jr. Shortly after joining the Carlson Gracie Academy, Jay began helping Carlson teach classes and eventually earned a position of instructor within the Academy. In March of 2007 Jay branched off and opened his own Academy, which he will be bringing to Black Tiger Performance.
Joining the team in the West Loop as well is Jerry Owen. Owens passion for fitness started during his time as a professional actor while working with a personal trainer to get in shape for a role; after this he was hooked and decided to learn everything possible about exercise and nutrition with the goal of helping others achieve a high level of fitness and health. Holding an advanced degree in Nutrition Science, Jerry has had great success in the field, participating in some of the top research studies on current nutrition trends. A life long love of martial arts and boxing pushed Jerry to take a turn in his career by becoming one of the top MMA and boxing strength and conditioning coaches in the country. Some of the professional fighters Jerry has worked with include; Andrei "The Pit Bull" Arlovski (former UFC Heavyweight champion), Andrzej Fonfara (NABO, WBC, WBA, IBO World Light Heavyweight Champion), Henry Coyle (WBF World Junior Middleweight Champion) and David Diaz (Former WBC Lightweight Champion). According to Owen, "There is no fitter athlete on earth than a top trained professional fighter. My goal is to break them down and put them back together and for the fight to be much easier than one of my sessions. Outside of working with professional fighters Jerry has also worked with many celebrities using martial arts training to get them in shape for movie roles.
Even with the great diversity already being brought to the facility with three incredible martial arts programs, Kevin Lowrey is rounding it out with his Survivor Fitness program. Kevin is a level 5 Krav Maga brown belt, with over 9 years Krav Maga training and instructor experience alongside 8 years as a NASM certified personal trainer specializing in weight loss, strength training, MMA style workouts, and sports specific training. Kevins Survivor Fitness program is a dynamic total-body Mixed Martial Arts style group training experience. This program is designed for anyone, regardless of skill level, who has a desire to lose weight and get in the best shape of their life. Survivor Fitness combines all aspects of MMA training, punching, kicking, striking combinations, strength training, and intense cardio training all while doing it in a safe, no-contact, fun environment. Neil Curran, a partner in Black Tiger Performance stated, Having Kevin as a part of our team adds such a unique training aspect with his background in Krav Maga training. Krav Maga is the official self-defense system of the Israeli Defense Forces and has been taught to hundreds of law enforcement agencies and thousands of civilians in the United States. It is a simple, effective self-defense system that emphasizes instinctive movements, practical techniques, and realistic training scenarios. I think it is something that our clients will find as an incredible opportunity to learn key aspects of a unique discipline in the martial arts, and while doing so getting in incredible shape. Kevin states, This may be one of the most challenging workouts you have ever done. The good news, though, is that no one ever drowned in their own sweat!
Black Tiger Performances mission is to be the best performance center in the country by merging the essential elements from conditioning, athletics, martial arts, fitness, injury recovery and sports psychology in an effort to ensure the clients achieve their aspirations. In doing so, Black Tiger Performance recognizes that individuals have different needs, different fears, different limitations and a variety of strength and body composition, yet nonetheless fundamental core strategies are specifically generated to help them find their own strength to power through these limitations.