Personal Mastery Martial Arts in Sandy, UT celebrates their 17 year anniversary of martial arts and life skill instruction this month. [PR.com] PR.com Press Releases: Sports: Martial Arts News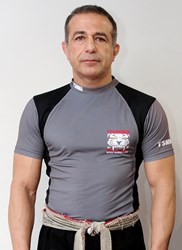 Elmwood Park, NJ (PRWEB) December 05, 2013
Tiger Schulmann began training in karate at the age of 9 after his older brother suffered a severe bullying incident. Though he was initially reluctant to accept a child of that age in his school, Daniels instructor quickly found him to be a child prodigy of the martial arts. After a few months, the instructor named him, Tiger, due to his speed, focus, power and heart.
Because he was too strong for opponents his age, Tiger Schulmann was placed in competitions against the adult divisions, where he remained undefeated in over 100 fights during his competitive career. To this day, he still holds the record for most consecutive years in holding the title of American Knockdown Karate Champion for 6 years in a row.
In 1982, Schulmann opened his first school, and in 1984 opened the first location which would turn into the blockbusting franchise which has become known as, Tiger Schulmanns Mixed Martial Arts. The franchise will be celebrating its 30th anniversary in 2014 with 47 locations and additional openings planned throughout the year.
Adding to his credits as an undefeated martial arts champion, Tiger Schulmann has also trained several dozen professional martial arts competitors and title-holders in Muay Thai kickboxing, grappling, boxing and mixed martial arts. Many of them have even competed at the UFC level.
Additional information about Tiger Schulmann and his martial arts schools can be located on http://www.tsk.com.