Share With Friends:
|
|
Sports – Martial Arts Stories
,
RSS
and
RSS Feed
via Feedzilla.
Feedzilla: Martial Arts News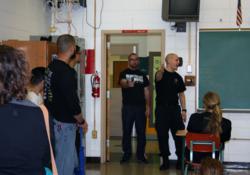 Rockaway, NJ (PRWEB) February 09, 2013
Teachers at Morris Knolls High School participated in a complimentary 2-Hour seminar where they learned some basic Krav Maga gun defenses in an effort to help prepare them against a potential active shooter. Krav Maga is an Israeli Self-Defense that relies on instinctive movements that are known for their simplicity and effectiveness regardless of the users size,age or ability.
Over 30 teachers volunteered their time after school learning the same basic handgun and rifle defenses that are taught to members of the Israeli military. Lead instructor Eric Basek is a former SWAT operator and 7 year veteran of federal law enforcement who now owns Blue Titan Fitness & Self-Defense in Rockaway, NJ. Along with Eric, three assistant instructors and several of his own student volunteers offered a combined 55 years of law enforcement and military experience to these dedicated teachers.
The response from this first seminar was so overwhelmingly positive that the school has scheduled a second seminar at Morris Knolls High School on February 12th at 3pm. For more information or media inquiries contact Eric Basek at 862-209-4636, Eric(at)BlueTitanFitness(dot)com or visit him on the web.